---
Recipes - Mediterranean Style Lamb Stew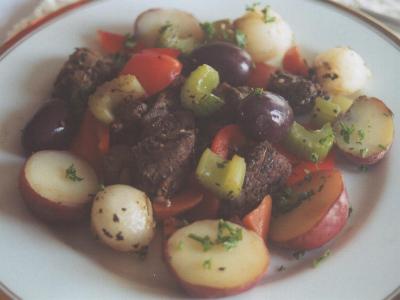 Ingredients:
1 lb. pre-seasoned lamb steak
8 boiling onions, or 1 yellow onion
2 carrots
2 ribs celery
1 small red bell pepper
8 olives
4 artichoke hearts
1/4 tsp. chopped garlic
1 tsp, capers (optional)
2 slices prosciutto ham (optional)
olive oil
salt and pepper to taste
Preparation:
• Cube the lamb steak into bite size chunks.
• If using pearl onions, parboil them for a minute, drain and set aside to cool. If using regular onion dice large.
• Cut carrots, celery, and red pepper about the same size as lamb chunks.
• Quarter artichoke hearts.
• Cut prosciutto into small strips.
• Sear the lamb in a cast iron skillet or saute pan until evenly browned. Remove from pan and set aside.
• Using enough olive oil to lightly coat the pan, saute vegetables with a sprinkle of salt for about five minutes over medium heat, stirring frequently.
• Add garlic, artichoke hearts, olives, capers and prosciutto toward the end of the process, along with the lamb. Mix well. Add a small amount of water or red wine, cover and simmer until vegetables are tender, approximately 15 to 20 minutes. Season to taste. Serve with couscous or potatoes.
---
More Recipes ...