---
Recipes
Lamb Steak or Lamb Chops with Shiitake Mushrooms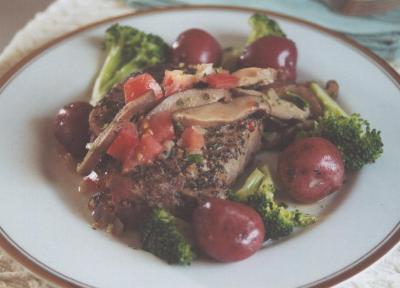 Ingredients:
approx. 1 lb. preseasoned
lamb steak or chops
6 shiitake mushrooms
(fresh or dried)
1 small tomato
1 shallot
1 scallion
1/4 tsp, chopped garlic
1 tsp, capers (optional)
sake (Japanese rice wine, opt.)
1 tbl. butter (optional)
salt and pepper
Marinade:
(This is a quick marinade meant to impart a subtle flavor. Use for poultry, seafood, and other cuts of meat as well).
1 tbl. lemon juice
1 tbl. soy sauce
2 tbl. olive oil
1/2 tsp. chili paste with garlic, or to taste. (Chili paste, known also as Sambai Oeiek is available in Asian groceries and some supermarkets).
Preparation:
• First mix the marinade, adding ingredients in the order given.
• Remove stems from shiltake mushrooms and slice the caps. If using dried shiitakes, soak whole mushrooms for 1/2 hour in water to cover, then bring to boil in soaking water with a tablespoon or so of soy sauce. Reduce to simmer and cook for 20 minutes or until tender. Then remove stems and slice.
• Cut the tomato into small cubes.
• Mince shallot.
• Slice the scallion into small pieces.
• Preheat oven to 375.
• Place lamb in marinade for five minutes or so, turning to ensure even absorption.
• Brown the lamb on both sides in a saute pan over medium heat. Then place in a baking pan (a pie plate works) in preheated oven for ten minutes or more depending on how rare or well you like your lamb.
• Deglaze the saute pan with a splash of sake or water.
• Add mushrooms, shallots, scallion, garlic and capers, stirring quickly for a minute or so. Add butter and remove from heat.
• When lamb is done, spread the shiitake mix across it diagonally and serve with accompaniments, such as potatoes, pasta, rice, salad, bread, etc.
---